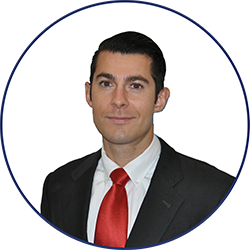 Civil/Structural Engineer
Areas of Expertise:
Civil Engineering
Structural Engineering
Building Science
Building Systems Design and Analysis
Failure Analysis
Lean Manufacturing
Six Sigma
Project Management
Construction Site Safety
Construction Scheduling and Estimating
Wind / Water Damage Assessments
Concrete Behavior
Foundations
Risk Management
Life Safety
Disaster Response
Railroad Design
Railroad Accident Investigation
Biography/Background
Zane Sadik, P.E., PMP, CGC joined CED with over ten years industry experience, in civil/ structural, coastal engineering and risk mitigation. After graduating with a Bachelors in Civil Engineering from University of Delaware, Mr. Sadik joined Morabito Consultants and performed structural engineering duties.  He then joined JMT Engineering. While at JMT Engineering he held a civil engineering role, working on numerous projects including: water treatment plants, commercial building renovations, DOT projects  and coastal structures such as docks and living shorelines. He also designed parking garages, managed roof construction, and solar panel installation.
After graduating John Hopkins with a Masters in Civil Engineering, Zane joined CSX as a LEADS (Load Engineering and Design Services) field manager. In this role as part of the freight claims group, he investigated risks and determined causation. Mr. Sadik dealt with real time risk mitigation requiring him to have an understanding of all the numerous aspects of  rail accidents.
At CSX Mr. Sadik was a member of the process improvement group.  In this capacity Mr. Sadik ran and was responsible for projects in excess of $100 million. Additionally while working for CSX, Zane joined the engineering department, where he performed engineering services to improve automation for the railway. This included but was not limited to signal design, and bridge automation. As part of the process of improving automation, Zane regularly interfaced with union workplace regulation, government agencies, and specifically the U.S. Coast Guard.
Education
Master of Science, Civil Engineering, Johns Hopkins University, 2011
Bachelor of Science, Civil Engineering, University of Delaware, 2007