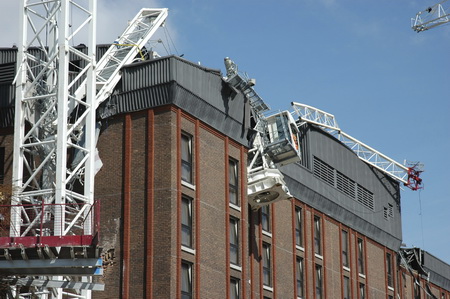 When construction related accidents occur, you can rely on CED's experienced team of experts to investigate and analyze all possible factors in order to find the right answers.  CED Civil/Structural engineers possess training, certification and education in highly specific fields such as, aerial work platforms, foundations, exterior insulation and finish systems (EIFS) to provide expertise from several different angles.
Our Forensic Services Include:
Investigation of personnel falls and scaffolding collapse accidents
Analysis of accidents or problems that arise from soil conditions and/or foundation construction
Examination of management responsibilities, job site safety and training issues
Investigation of circumstances involving OSHA investigations and citations
Assessment of issues or disputes relating to weather damage
Analysis and evaluation related to accidents and disputes that arise from construction, deficiencies, code compliance and quality assurance issues
Technical Equipment for Testing Include:
BOCA Code references
OSHA Database retrieval system
Solid testing meters
Construction material testing apparatus including equipment to determine material strength and hardness
Surveying/Leveling equipment
Capabilities:
Construction/Structural Defects
Construction Management
Worker Safety/OSHA Violations
Highway Design & Maintenance
Foundations
Water Intrusion/Mold
Hurricane/Natural Disaster Assessment
Wind v. Water Assessment
Roofing
Cranes
Heavy Construction Equipment
Roadway Equipment
Aerial Work Platforms (AWP), Certified Operators, Certified Trainers
First Responder Services
Submit a case or claim online.
Contact a CED Engineer in your region.