Premises Liability Investigated
On the Scene E-Newsletter, Edition 155, February 23, 2012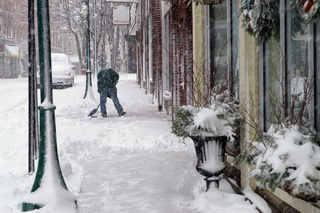 Personal injury can occur anywhere, at any time. It is vital to understand the roles of those involved to determine liability. Premises liability cases need to be investigated in an expeditious manner to gather accurate evidence. A property owner can possible be liable in many situations including open excavations, uneven grade, standing water, crumbling curbs, wet surfaces, uncleared snow, icy walks, falling objects, poor lighting, hidden holes, unsecured mats, or defective benches. CED Engineers have been investigating these types of cases for twenty-five years.

A property owner or possessor owes a duty of care to those visiting his property.  That duty scales from those who are specifically invited (the highest care) to those who are not welcome (the lowest care, i.e., a trespasser).  Where exactly on that scale a visitor falls, defines their legal rights if they are injured due to the negligence of the property owner/possessor.  In between an invitee and a trespasser is the licensee.  A licensee is someone who is on property not open to the general public, because the owner of the property has allowed them to enter.
CED experts understand premises liability and conduct extensive investigations into cases such as:
• Investigation of accidents resulting from walking and running maneuvers
• Reconstruction of accidents caused by improper design and construction of walking surfaces
• Investigation of tripping hazards due to an unexpected step or misaligned walking surface
• Analysis of accidents relating to stairway design and construction
• Evaluation of accidents resulting from the maintenance or materials of a walking surface
• Review/analysis of OSHA, building codes and standards
CED engineers are often retained as consultants on premises liability accidents representing the plaintiff, defendant or an insurance company. A common assertion is that the surface or other hazard in the vicinity was the cause of the accident. To determine the cause of the accident, CED engineers inspect the accident scene, perform testing when appropriate and research standards and codes. Please call us today at 800.780.4221  or visit us online at www.cedtechnologies.com.