CED Technologies, Inc. is a leader in forensic engineering, accident reconstruction, rapid responder services, and engineering studies. CED was founded in 1987 by a group of United States Naval Academy graduates and professors intent upon applying proven science and engineering principles to the reconstruction of accidents. In addition to industry standards testing and research, CED provides litigation support and expertise for some of the most well-known law firms, insurance companies, and manufacturers nationwide.
Reach us electronically!
CED now offers the ability to register and log into our website to submit inquiries and assignments along with researching cases and experts. Join our community to easily stay in touch. To register click the "Sign up" link on our site or click here and input your information.  To login, just click the "Login" button on our site or click here once registered.
Go Mobile – Take us on the road.
Once registered, go to the Apple store or Google Play and search for "CED Anywhere" and download the app. The app allows registered users to submit assignments/inquiries, search case expertise, and search experts and request CVs.  Login and join us!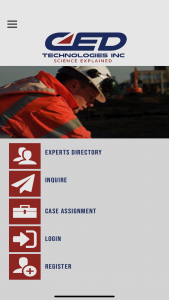 CED on the Scene: Securing the Workspace
CED Drone Applications: Forensics
CED Testing: Flat Bottom Vessels