Hierarchy of hazard controls is a system recognized by the National Institute of Safety and Health (NIOSH) to minimize or eliminate occupational hazards in the workplace. CED's engineers are experts on industry standards such as this hierarchy.
The controls in the hierarchy are in order of decreasing effectiveness: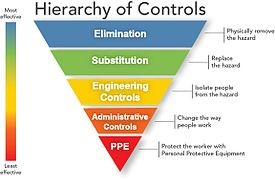 Physically removing the hazard from the workplace.
Replacing the hazard with a product that does not cause another hazard.
Creating isolation from the hazard (does not eliminate).
Changing the way people work, for example new procedures.
Personal protective equipment
Hard hats, respirators, safety footwear, etc.
If you have questions about workplace or product safety standards, please call us at 1-800-780-4221 or contact us here.Click Here To See Our Full List of Experts Click Here To Submit an Inquiry about a possible Claim or Case.