Holiday Safety Tips
On the Scene E-Newsletter, Edition 129,

December 14, 2010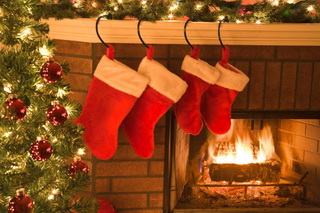 Company "Safety" experts and parents rarely see accidents.  CED engineers see the results of accidents/incidents every day while reconstructing them for our clients.  We investigate fires set by such things as misplaced candles, exposed wiring, and dried trees.  Our engineers also investigate holiday light electrocutions and product safety issues as well as slip & falls from ladders, aerial lifts, etc.  By using their knowledge and skills to investigate and reconstruct accidents, CED engineers explain why and how the accidents occurred and on occasion give suggestions of how to prevent them from happening in the future.
CED wants everyone to have an exciting and fun holiday season! To help ensure everyone has a safe holiday, we gathered safety tips from the American Academy of Pediatrics (AAP) and the US Consumer Product Safety Commission (CPSC) and listed them below.  Remember to keep these tips in mind while decorating your homes and offices.

Trees
•    When purchasing an artificial tree, look for the label "Fire Resistant."
•    When purchasing a live tree, check for freshness.  A fresh tree is green, needles are hard to pull from branches and when bent between your fingers, needles do not break. The trunk butt of a fresh tree is sticky with resin, and when tapped on the ground, the tree should not lose many needles.
•    When setting up a tree at home, place it away from fireplaces, radiators or portable heaters. Place the tree out of the way of traffic and do not block doorways/exits.
•    Cut a few inches off the trunk of your tree to expose the fresh wood.  This allows for better water absorption and will help keep your tree from drying out and becoming a fire hazard.
•    Be sure to keep the stand filled with water because heated rooms can dry live trees out rapidly. 

Lights
•    Check all tree lights, even if you've just purchased them, before hanging them on your tree.  Make sure all the bulbs work and that there are no frayed wires, broken sockets or loose connections. If in doubt, throw them out. 
•    Never use electric lights on a metallic tree. The tree can become charged with electricity from faulty lights, and a person touching a branch could be electrocuted.
•    Before using lights outdoors, check labels to be sure they have been certified for outdoor use.  To hold lights in place, string them through hooks or insulated staples, not nails or tacks.  Never pull or tug lights to remove them.
•    Plug all outdoor electric decorations into circuits with ground fault circuit interrupters to avoid potential shocks.
•    Turn off all lights when you go to bed or leave the house. The lights could short out and start a fire.

Decorations
•    Use only non-combustible or flame-resistant materials to trim a tree. Choose tinsel or artificial icicles of plastic or nonleaded metals.
•    Never use lighted candles on a tree or near other evergreens. Always use non-flammable holders, and place candles where they will not be knocked over.
•    In homes with small children, take special care to avoid decorations that are sharp or breakable.  Keep trimmings with small removable parts out of the reach of children to prevent them from swallowing or inhaling small pieces.  Avoid trimmings that resemble candy or food that may tempt a young child to eat them.
•    Wear gloves to avoid eye and skin irritation while decorating with spun glass "angel hair." Follow container directions carefully to avoid lung irritation while decorating with artificial snow sprays.
•    Remove all wrapping papers, bags, paper, ribbons and bows from tree and fireplace areas after gifts are opened.  These items can pose suffocation and choking hazards to a small child or can cause a fire if near flame.
For more information on CED or how we can assist you on your current or next case, please feel free to contact one of our case managers at casemanager@cedtechnologies.com or on the web at www.cedtechnologies.com.