Investigating the Cause of Failure in Plumbing Systems
On the Scene E-Newsletter, Edition 114, April 26, 2010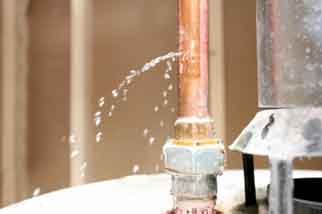 Water is a leading cause of property damage claims in the United States.  Water leakage from plumbing systems is the common source of this damaging water.  However, when a case involves plumbing issues, often a plumber is not the expert needed. Establishing the cause of a failure in a plumbing system requires an understanding of the numerous types of systems, the components within the system, how they interact, their compatibility, and proper use and installation.   A proper analysis of a failure in a plumbing system often requires a familiarity with a multitude of codes, standards, and manufacturer specifications, industry practices as well as materials science and mechanical engineering.
The basic element of a plumbing system is the piping.  Pipes or tubes used in plumbing systems can be copper, black iron or a variety of different plastics described by an alphabet soup of acronyms:  CPVC, PE, PEX, PVC, ABS, PB, etc.  Each of these piping types utilize unique joining methods and have specific applications they are designed for.  Intermixing of piping materials or joining methods is generally not recommended but when done, needs to be done with specific adaptors and only with pipe and fittings with pressure and temperature ratings and product listings suitable for the system application.
It is not uncommon to see the improper intermixing of pipe systems, use of thread sealants, cleaning chemicals and insecticides leading to failures and leakage of plastic piping systems.   In general, plastic pressure piping should be protected from exposure to chemicals, including oil-based paints, insecticides, and thread sealants not specifically manufactured for plastic pipe and any type of grease.  In some cases exposure to other solid materials can be very detrimental as well, including other plastics such as the plastic jackets on electrical and communication cables.  The simple act of draping electrical wiring over plastic pressure pipe can eventually lead to fracture and leakage.
Metallic piping systems have their own unique concerns.  In copper piping systems, the use of undersized pipe or otherwise excessive flow rates, such as in hot water recirculation systems, can lead to excessive water velocities and failure through a process known as erosion-corrosion.  Intermixing copper and iron-based components without dielectric separation can lead to accelerated corrosion of the iron-based components such as water heater tanks and fittings.  Some brass alloys are highly susceptible to dezincification corrosion and/or stress corrosion cracking.  In some cases brass alloy fittings have fractured after only a few months of service due to these effects.  

Another area of concern is in the fittings and other devices used to connect a building's plumbing system to the appliances and fixtures that use or dispense the supplied water.  The selection, installation and care of these devices, such as water connector hoses, tubes, quick-connect couplings, stop valves, etc. are important to maximize the life and durability of the device.  It is important for the installer to understand the proper method to operate and install these devices, including identifying the size and threading of the needed fittings or adaptors.  Failures due to overtightening, damage from improper tool use, mismatched thread or pipe sizes or improper use of thread sealant are frequently seen.  

Product defects in the piping and/or fittings have been seen in piping systems of different material types.  Molding and resin defects in plastic pipe and fittings, improper alloy selection in metallic pipes and fittings as well as fitting design defects have led to some plumbing system failures. The interaction of the piping system materials within the intended application, such as the local water supply and external environment can all play a role in a failure that may need to be considered during the analysis. Failures due to material and design defects and incompatibility with the intended service environment, can take years to manifest.

CED mechanical and material engineers are proficient in addressing the numerous issues involved in plumbing system failures both individually and when needed through a multidisciplinary approach with engineers familiar with the multiple codes, standards, manufacturer specifications and industry practices.