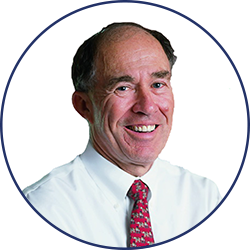 Founder
& Senior Mechanical Engineer
Areas of Expertise
Mechanical Engineering
Mechanical Equipment Evaluations
Machine Analysis and Guarding
Analysis and Testing
Human Factors Analysis
Accident Reconstruction
Dr. Clyde Richard is the Chief Executive Officer and a Senior Mechanical Engineer for CED Investigative Technologies Inc. Dr. Richard holds a Bachelor and Masters degree in mechanical engineering from Rensselaer Polytechnic Institute along with a Doctorate Degree from the University of Connecticut. Prior to launching CED 1987, Dr. Richard was a professor at the United States Naval Academy for over 15 years teaching on such subjects as human factors, mechanical design and power plant mechanics.
Through teaching and research Dr. Richard has authored over 29 publications, has two patents and has been a speaker and paper presenter at symposiums in the United States, Europe and Israel. Since establishing CED,Dr. Richard has been the major catalyst to the accelerate growth of the company which has expanded to five offices and over 30 employees nationwide and is regarded as one of the premiere investigative firms.
Dr. Richard is a registered Professional Engineer in five states and a member of numerous professional societies, including the Human Factors Society, American Society of Mechanical Engineers, Society of Automotive Engineers and the National Society of Forensic Engineers. His knowledge, expertise and years of hands-on experience make him one of CED's most sought after engineers. Dr. Richard's responsibilities, along with investigating and reconstructing accidents, include overseeing the marketing, business development, merger and acquisitions and the financial activities of the company.
Academic Background:
Ph.D., Mechanical Engineering, University of Connecticut
M.S.M.E., Mechanical Engineering, Rensselaer Polytechnic Institute
B.M.E., Mechanical Engineering, Rensselaer Polytechnic Institute
Trial History (Since 1998)
State Court Appearances (19)
Federal Court Appearances (5)
Deposition History (Since 1998)
State Court Depositions (60)
Federal Court Depositions (25)
Societies & Honors:
ASME
Society of Automotive Engineers
Human Factors Society
Society of Safety Engineers
Phi Kappa Phi
Patent Awards, 1967 and 1975