Amusement Ride Accidents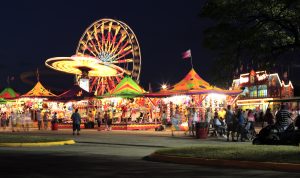 A festival ride at the Ohio State Fair recently failed, killing one rider and injuring several others. This incident draws attention to amusement ride safety all across the country.
The U.S. Consumer Product Safety Commission (CPSC) estimates that 30,900 injuries caused by amusement park attractions were seen by hospital emergency departments in 2016 alone. Those injured are out of millions of people who visit amusement parks, carnivals, fairs, and festivals each year according to the Outdoor Amusement Business Association, which represents much of the mobile amusement industry.
The CPSC regulated amusement-park rides until transfer to state responsibility in 1981. In some states, like Ohio, the Department of Agriculture oversees amusement park rides. In other states, they're overseen by the states' fire marshals, Departments of Labor, insurance regulators or other agencies. Six states — Alabama, Mississippi, Nevada, South Dakota, Utah and Wyoming— do not conduct any oversight, according to the International Association of Amusement Parks and Attractions (IAAPA). Because every state handles amusement ride oversight so differently, it is difficult to track safety standards nationwide. Differences include the frequency of inspections, method of certification, rider operator sanctions, and injury reporting.  The variety of rules make it difficult to get a clear picture of ride safety.
Some of the causes of amusement ride accidents include;
Ride design- all kinds of design flaws might be at fault for an accident, from a design that allows easy access to ride controls, to an improperly balanced part that could loosen hardware and collapse, to poor safety mechanisms.

Mechanical or technical failures- a glitch in a control, a worn track, faulty braking mechanisms, a material or electrical failure, faulty hydraulics, improper assembly, or any other mechanical or technical problem could also affect safe operation of amusement rides.

Operator error- disabling safety equipment; starting up a ride while people are loading or unloading; stopping a ride too abruptly; or running a ride too fast could all lead to injury or death.

Rider misbehavior- standing up in a ride, loosening or wriggling out of safety restraints could lead to sudden falls and injuries as rides change direction.

Rider medical conditions- the extreme forces and accelerations experienced on rides can trigger aneurysms, hemorrhages, and cardiac arrest among people with pre-existing medical conditions.

Poor maintenance- broken, damaged or worn components must be repaired or replaced before the ride is allowed to operate.

Tampering- guests sometimes misadjust exposed or accessible controls or safety mechanisms, or ride operators or might perform temporary, unauthorized quick-fixes to rides that compromise safety.
CED Technologies has engineers on staff who can help determine the cause of amusement ride accidents and injuries.  Mechanical, electrical, structural, materials science, and biomechanical engineers on staff can examine design, components, controls, materials, standards, safety precautions and other issues that may be involved with amusement ride accidents.  For more info contact your CED's regional office.
Featured Engineer
Brian Mills, P.E.

For a full profile Click

https://www.cedtechnologies.com/staff-member/brian-l-mills-pe/

M.S., Engineering Management, Walden University
B.S., Mechanical Engineering, West Virginia University
Mr. Mills graduated from West Virginia University with a Bachelor's of Science in Mechanical Engineering. His WVU studies emphasized machine design and industrial process analysis and workflow improvement. Mr. Mills completed a Master's of Science in Engineering Management from Walden University with a focus on leadership, program management, and application of innovation and technology.
Areas of Expertise
Plumbing Components / Piping Systems
Aerial Work Platform, Forklift, Skid Steer
OSHA / Workplace Safety
Mechanical Engineering
Manufacturing
Machine Analysis, Interlocks & Guarding
Mechanical Power Transmission
Accident Reconstruction
Human Factors
Consumer Products & Appliances
Mechanical Systems Design & Analysis
Natural & Propane Gas Systems
Elevators / Escalators