The process of Building Information Modeling (BIM) can be both. While the emergence of BIM within the Architecture and Engineering Profession has been primarily associated with the design and construction of new buildings and renovation projects, in the hands of an experienced forensic professional, BIM can provide a look back into the entire design, construction and operation of a building and other types of construction projects.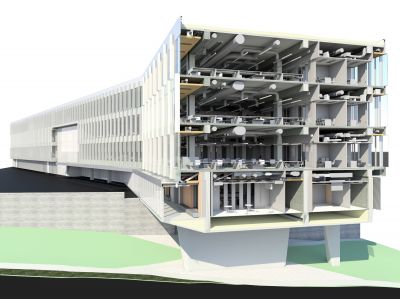 Historically, the majority of construction claims has been due to delays and faulty construction management decisions. Incorporating BIM as a means of "reconstructing" the project allows forensic professionals to determine what went wrong. This requires input from the construction professionals such as baseline schedules, updated schedules, proposed and actual staffing levels, milestone(s) and their associated scheduled dates. Other documents, including project meeting minutes and any management decisions made in those meetings allow for the reconstruction of the project under the fourth and fifth dimensions of BIM: Time and cost. 
A recent case investigated by the professionals at CED involved the design and construction process of a major medical facility in the northeast. A design-build case, which required input from all of the major subcontractors, allegedly resulted in a cost overrun for one of the major subcontractors, eventually resulting in litigation against the General Contractor for mismanagement of the design process. Utilizing modern construction management procedures as a guideline, and incorporating historic project information into a three-dimensional model (3D), CED was able to provide overwhelming evidence that its client had indeed fulfilled the requirements of the role of Federated Model Manager, resulting in a favorable decision for its client.
Featured Engineer: Mark T. Kilgore, P.E., Senior Structural/Civil Engineer
Submit a case or claim online.
Contact a CED Engineer in your region.