Investigating on the Job Injuries
On the Scene E-Newsletter, Edition 96, June 1, 2009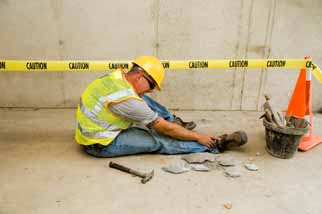 Many personal injury claims and the resulting litigation are based on cause, timing, and location contributing to an accident. Biomechanical engineering can be used to determine causation related to workers' compensation claims and Federal Employee Labor Act (FELA) litigation. Certain red flags such as an unexplained accident event or a person who has pre-existing injuries may warrant biomechanical investigation. For example, biomechanical analysis can be used to determine whether an injury is consistent with performing repetitive actions on the job such as lifting heavy work tools, or whether it is consistent with a traumatic event. Injury dynamics and the role of various types of equipment design as well as environmental influences can be effectively modeled and tested to confirm injury causation.

Biomechanics is an applied science encompassing the disciplines of biology, anatomy, and mechanical engineering. It specifically utilizes the laws of physics and concepts relevant to both engineering and medicine to describe human motion and those forces acting upon the body. To support the claim or litigation with valuable opinions as to causation, a biomechanical analysis can be conducted with review of medical records and an investigation of the forces/motions associated with the work activity or one-time event reported to have caused the injury. A biomechanical engineer looks at medical records to determine the nature of injury and see if there is history of pre-existing injuries or contributing factors to cause the injury in question. Next, the biomechanical engineer can conduct an inspection to confirm the mechanical forces at work and reconstruct the accident. The biomechanical engineer oftentimes will also evaluate the accident assuming the accident claim and associated actions by the injured in fact did occur and then compare the mechanical forces from those actions with published injury tolerance values.
Biomechanical engineers can provide critical analysis to personal injury claims and litigation. An initial file review is a cost-effective approach to determine claim worthiness. With a positive outcome from the file review, a full biomechanical analysis may be warranted to support allegations of on the job, pre-existing, or contributory actions to injury causation. Examples of accidents which warrant biomechanical analysis include:
•  Lifting, pushing, pulling
•  Slip & Fall Analysis
•  Sports Injuries
•  Automobile Accidents
•  Repetitive Trauma
•  Orthopaedic/Occupation
•  Job & Tool Analysis
For more information on how CED Investigative Technologies can assist you, please click on the "Live Chat" button for immediate assistance, send us an email request at Case Manager or call us directly at (800) 780-4221.