Roof Failures: The Effect & Cause & Why You Need a Civil Engineer
On the Scene E-Newsletter, Edition 108, February 8, 2010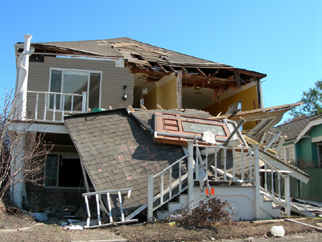 One of the more common types of construction cases CED investigates involves the evaluation of roof damages and the damages resulting from roof leaks. Our experts have extensive experience investigating roof failures on both commercial and residential buildings, flat and sloped surfaces. Our expertise with roof systems includes the knowledge of material performance and detailed analysis and investigation with virtually every type of roofing material used. Whether the roof is covering a shopping mall or a single family detached home, our experts are able to evaluate each factor leading to a sound conclusion by determining the following:
1. Were the materials used to construct the roof adequate for the loads and expected regional weather conditions?
2. Did the installer use the proper installation methods and materials?
3. Was the roof maintained in accordance with standards applicable to that type of roof?
4. If the roof was repaired prior to the damages being sustained, were the repairs carried out with the proper materials and techniques?
5. If there are allegations that the roof defects or damages led to further damages to the contents of the structure, are those damages consistent with the type of defects or damages actually sustained by the roof?
The three most common sources of damages to roofing system are defective construction, weather and faulty maintenance. Defective construction cases require an expert to inspect and evaluate whether the proper materials, tools and techniques were used to build the roof. Weather related damages often require a detailed inspection, not only of the roof, but also the historical weather data to which the roof was subjected. Finally, faulty maintenance claims involve a careful examination of the "before" and "after," and whether the repairs and/or maintenance was performed in accordance with standards set by both private and governmental authorities.
When roofing defects or damages are alleged to have led to other damages, our experts will carefully compare the roof damages or potential defects to the damages sustained inside the structure. This comparison will permit the engineer to determine whether the two are consistent and if the damages or potential defects involving the roof could have led to the damages alleged to have been sustained inside of the structure.
CED engineers have investigated hundreds of roof related cases, providing extensive expertise in field investigation, consultation and expert testimony.