Spoliation of evidence can be the silent killer in claims and litigation!!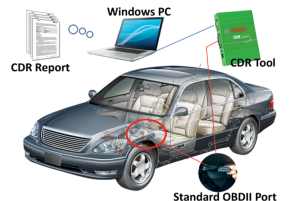 Take for example the vehicle's Event Data Recorder (EDR), commonly known as the black box. If a vehicle's EDR is not downloaded/imaged soon after an accident, another accident may overwrite the data. Another possible spoliation of the EDR can occur if the vehicle is demolished and not available for retrieval. Therefore, the solution is to download or store the data soon after the accident.So, what is in the black box? EDR's may capture information, such as the vehicle speed, brake usage, engine RPM, throttle position, and seatbelt usage. This EDR function is triggered by the restraint system "waking up" due to sudden abnormal acceleration(s) felt by the system.
CED has created a program to specifically download and preserve electronic evidence from a vehicle's black box.  CED's sister company TER International, specializes in evidence collection and storage, has designed flat fees based upon 1, 2, 3 hour travel radius from any of our offices in Florida, Maryland, Connecticut, Ohio, and Illinois.  Trained personnel will travel to the vehicle, download the EDR and remove if requested, take 8 surrounding pictures of the vehicle.  TER's personnel will also verify and document the VIN plate and lastly take pictures of all four tires, all at a reasonable rate to the client.  To preserve a more complete picture of an accident scene, consider a 3D laser scan of the area of interest.
Contact TER
For more information on TER's Vehicle Electronic Data Retrieval Program – please contact us at 800-721-4221 or email at info@cedtechnologies.com to speak to a representative.