Accident Reconstruction -Event Data Recorders & Crash Data Retrieval.
Event Data Recorders (EDRs), also known as "black boxes" capture information, such as the speed of a vehicle, brake usage, engine RPM, throttle position, and seatbelt usage. This EDR function is triggered by the restraint system "waking up" due to sudden abnormal acceleration(s) felt by the system. Most car manufacturers currently install these devices in new vehicles.
In December 2015, the federal Driver Privacy Act of 2015 was enacted. It places limitations on data retrieval from EDRs and provides that information collected belongs to the owner or lessee of the vehicle. Seventeen states–Arkansas, California, Colorado, Connecticut, Delaware, Maine, Montana, Nevada, New Hampshire, New Jersey, New York, North Dakota, Oregon, Texas, Utah, Virginia and Washington–have enacted statutes relating to event data recorders and privacy. Among other provisions, these states provide that data collected from a motor vehicle event data recorder may only be downloaded with the consent of the vehicle owner or policyholder, with certain exceptions.
If a vehicle has an EDR, then the data collected must comply with National Highway Traffic Safety Administration (NHTSA) final ruling 49 CFR Part 563. Additionally, if there is an EDR in a vehicle, the manufacturer must make available to the public, hardware and software for the imaging of the stored data. This ruling provides a minimum standard for the type of data that EDRs are requi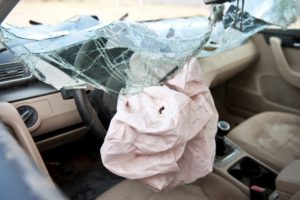 red to record: at least 15 types of crash data. Some of the required crash data include pre-crash vehicle speed, engine throttle, brake application, measured changes in forward velocity (Delta-V), driver safety belt use, airbag warning lamp status, and airbag deployment times. In addition to the required data, NHTSA also set standards for 30 other types of data if EDRs were voluntarily configured to record them. For example, if a manufacturer configured an EDR to record engine RPMs or ABS activity, then the EDR would have to record 5 seconds of those pre-crash data in half-second increments. All data must be able to survive a 30 MPH barrier crash and be measured with defined precision.
Currently, most vehicles equipped with air bags have an EDR as part of the supplemental restraint system . Starting in 2005, most car companies included a statement in the vehicle owner's manual indicating whether or not the vehicle was equipped with such features. As noted above, ownership of EDR data is not consistent from state to state. To avoid spoliation issues, a wiser and more cost-efficient strategy might be to save the module containing the EDR data – as evidence, rather than the entire vehicle, and then
download the recorded data when permission is granted.
Engineering experts and accident reconstructionists in CED's Vehicle Crash Group have been trained to download vehicle EDR information. This data can then be used as part of the reconstruction of an accident. The EDR data should NOT be considered the only required element in a reconstruction. The EDR data must be considered a part of the overall reconstruction. It is NOT stand alone data. A situationally complete reconstruction must be used to evaluate the EDR data as it relates to the accident. Based on the reconstruction of the accident, CED engineers would be able to opine on liability and contributing factors. To find out whether or not a vehicle has EDR and to discuss the benefits of this information to your claim or case, please contact CED Technologies.
Featured Engineer: Robert Miller, M.S.M.E., P.E.  Senior Mechanical Engineer
Vehicle Crash Group – Find out more about CED's VCG services.
Connect with a CED Engineer in your region.
Submit a case or claim online.